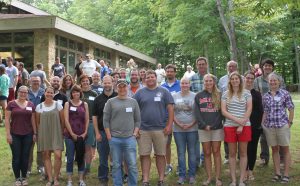 Members of the newest state chapter of PARC (that's OHPARC) made a strong showing at the regional working group meeting.  The MWPARC annual meeting was held in August 2017 in Martinsville, Indiana.  The focus of the meeting was Conservation, Management, and Monitoring of Fossorial
Species with a special emphasis on the Kirtland's Snake.
In addition to all of the great oral and poster presentations, task teams spent time discussing Blanding's Turtles, Kirtland's Snakes, and attending a disease workshop by Dr. Matt Allender.  And, of course, there was lots of networking and socializing!  You can read more about the meeting at the MWPARC page.