OHPARC Co-Chairs and Advisory Board
Dean Alessandrini
Advisory Board, term ends 2018.  For as long as I can remember, I have held a deep sense of fascination and love for reptiles and amphibians. In past decades, I was involved in captive husbandry and breeding of many species of snakes, and became recognized as an expert in the captive propagation of Indigo Snakes (Drymarchon couperi), in the early 2000s. More recently, my interest has evolved into local species of amphibians and reptiles and their conservation. I served as conservation committee chairman for the Greater Cincinnati Herpetological Society for 5 years, facilitating projects such as habitat restoration for local species. I have done countless education / outreach programs for children, and continue to do them annually. I have a deep passion to serve as a competent and determined ambassador to the local herps of Southwest Ohio, and appreciate being selected to represent PARC in this corner of the state.
Marc Behrendt
Advisory Board, term ends 2019.  Marc is presently teaching anatomy and physiology laboratory for Ohio University Chillicothe. For the past two years, while teaching A/P lab for OU Athens, Marc was co-curator for herpetological and entomological specimens stored in the Ohio University Zoological Museum. Marc also taught agricultural entomology at Wilmington College. In 2014, Marc developed and performed the inaugural herpetological survey for Perry County, Ohio, which was recently published in Herpetological Review.  Marc has performed field surveys involving birds, fish, and herpetofauna for the US Fish and Wildlife Service, US Dept. of Agriculture, and Ohio Division of Wildlife. For the past two years, Marc has been assisting with gopher tortoise research at Archbold Biological Station in Southern Florida, and regularly provides snake rescue from the roadways in Everglades National Park. Marc's overarching goals are to support the herpetofauna that we have now, preserve and enhance habitat for future generations, and generate ecological and scientific literacy in the general public. Prior to receiving his doctorate in science curriculum and instruction, Marc gained experience as a hospital laboratory supervisor, medical laboratory scientist, fossil preparator, and teacher.
Matt Cross
Co-Chair, term ends 2019.  I am a conservation biologist with a background in landscape ecology and GIS. My research interests are broad, but have focused on conservation planning for reptiles and amphibians by exploring the effects of habitat management and fragmentation on movement and distributions. I am currently a conservation biologist for the Toledo Zoo where my work includes population assessments and spatial ecology studies of native reptiles and amphibians.
Meaghan Gade
Advisory Board, term ends 2018.  Meaghan Gade is a Ph.D. student at Ohio State University working with Dr. Bill Peterman. She received her Master's degree from John Carroll University in 2015, working on sexual selection and mate choice in tropical poison frogs. As aMaster's student, she also participated in a number of local research projects involving behavior and mate selection in red-backed salamanders. Her first exposure to both herps and research came when she was an undergraduate student at Auburn University working in a herpetology lab investigating amphibian and reptile assemblages across fire-restored and unrestored long-leaf pine forests in Alabama. Currently, as a Ph.D. student, Meaghan is investigating population demographics and behavioral variation in Plethodontid salamanders in the Southern Appalachian Mountains.
Nicole Hafer
Advisory Board, term ends 2019.  Nicole Hafer is the Education/Wildlife Specialist with the Muskingum Soil and Water Conservation District in Zanesville, Ohio. She has been with the District for 13 years. Additionally, Nicole has been an Adjunct Instructor at Zane State College for the last 15 years, where she teaches Botany, Field Herpetology, Nature Interpretation, and Environmental Science. She is the author of the Gartersnake chapter of the upcoming Reptiles of Ohio book, and is working with Philo High School of a conservation project for the endangered Eastern Spadefoot. She received her Associate of Science in Recreation and Wildlife from Hocking College, Bachelor of Science in Environmental Interpretation from The Ohio State University, and Master of Science in Conservation Biology from Green Mountain College. Nicole.hafer@muskingumswcd.org
Pete Johantgen
Advisory Board, term ends 2019.  A lifelong resident of Ohio, Pete grew up in Williams County where he explored creeks, fields, and woods, always striving to learn more about the fascinating flora and fauna that he encountered. Pete turned his zeal for the natural world into a profession; he is a zoo biologist at the Columbus Zoo and Aquarium and has more than 20 years of experience in zoo animal care and wildlife conservation.  Throughout his career he has been passionate about reptile and amphibian conservation in Ohio, and is active in state partnerships for the recovery of Plains Gartersnake and Eastern Hellbender salamander populations. Pete has a BS in Zoology from The Ohio State University and a Master's degree in Wildlife Science from Texas A&M University.
Sarah Kitson
Advisory Board, term ends 2019.  Sarah Kitson works as a Land Steward for Western Reserve Land Conservancy's southern and western regions. This involves visiting a portion of the many publicly and privately owned properties in northern Ohio that are permanently conserved with conservation easements. Sarah obtained her B.S. in Biology from Kent State University in 2013. During that time, she completed an undergraduate thesis project studying larval wood frog growth in response to vernal pool leaf litter composition. Sarah went on to acquire her M.S. in Biology from Ohio University in 2016 studying hatchling Diamond-backed Terrapin performance and survivorship for her thesis. Sarah is pleased to continue her involvement with the herpetological community by serving on the OHPARC advisory board and working with reptiles and amphibians on permanently conserved properties.
Greg Lipps
Co-Chair, term ends 2018.  Greg is the Amphibian & Reptile Conservation Coordinator at Ohio State University's Ohio Biodiversity Conservation Partnership.  His career has focused on developing and implementing plans to ensure the conservation of Ohio's herp species.  Recent projects have included recovery of the Eastern Hellbender and Massasauga.  While his work often includes research to investigate life history requirements or to determine the most effective surveying and monitoring techniques, it just as often is about building relationships with partners and landowners that he believes are necessary for conservation to be successful.  Greg's work has taken him to every corner of the state, with projects focused on Green Salamanders, Cave Salamanders, Four-toed Salamanders, Spotted Turtles, and Blanding's Turtles.  He routinely collaborates with the Ohio Division of Wildlife, the US Fish & Wildlife Service, and staff of Ohio's zoos, land trusts, park districts, soil and water conservation districts, and nature centers.  Greg is originally from Cincinnati, worked as a zookeeper at the Toledo Zoo, is an editor and contributor to Amphibians of Ohio, and is a past Co-Chair of Midwest PARC.  He currently resides in the Oak Openings Region in southeast Fulton County.    www.GregLipps.com
Kate Parsons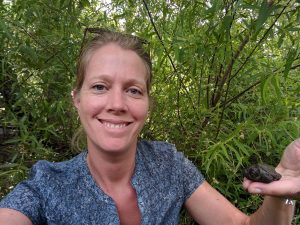 Advisory Board, term ends 2019.  Kate Parsons is the Terrestrial Endangered Species and Wildlife Diversity Program Administrator for ODNR Division of Wildlife. She received her B.S. from Ohio University and M.S. in Wildlife Science at Oregon State University where she studied burrowing owls. She has worked with a diversity of species including diamondback terrapins and other herps, bald eagles and shorebirds. Before working for ODNR, she was a program leader for the Florida Fish and Wildlife Conservation Commission for 12 years. She has extensive experience with State Wildlife Action Plans and imperiled species management plans.
Bill Peterman
Advisory Board, term ends 2018.  I am an Assistant Professor of Wildlife Ecology with the School of Environment and Natural Resources at Ohio State University. Originally from Michigan, I've spent time in Indiana, Missouri, and Illinois. I have had a life-long passion for reptiles and amphibians, and have had the good fortune to make a career of studying the ecology of these animals. I have a particular fondness for plethodontid salamanders, but past and present research has focused on turtles, pool-breeding amphibians, and timber rattlesnakes. Ultimately, my research seeks to answer fundamental ecological questions to serve as the foundation for informed management and conservation of landscapes as well as the wildlife communities that inhabit them. My lab is currently focused on a variety of applied ecological and conservation questions in Ohio and the southern Appalachian Mountains of North Carolina. Find out more at http://petermanresearch.weebly.com/.
Teal Richards-Dimitrie
Advisory Board, term ends 2018.  Ms. Richards-Dimitrie is relatively new to Ohio and is currently working as a Herpetologist at EnviroScience Inc.  For the last 12 years, she has worked on reptile and amphibian conservation, in various capacities, in many of the regions of the United States, including Arizona, New Mexico, Illinois, Maryland, Florida, Massachusetts, and California. Richards-Dimitrie received her B.S. in Biology from Grand Canyon University, Phoenix, AZ in 2006 and M.S. in Biology from Towson University, Towson, MD in 2011. Her thesis research focused on the conservation and management of Northern Map Turtles, a state endangered species in Maryland. Teal has always tried to stay active in whichever regional PARC chapter her meandering path has taken and she is thrilled to serve on this advisory board.  http://enviroscienceinc.com/employee/teal-richards-dimitrie/
Megan Seymour
Advisory Board, term ends 2018.  Megan Seymour is a Wildlife Biologist for the U.S. Fish and Wildlife Service (Service) in the Columbus, Ohio Ecological Services Field Office, where she has worked for the past 18 years. Her work is focused on implementation of the Endangered Species Act (ESA) including listing, consultation, recovery, and delisting of endangered and threatened species. She was the co-author of the recovery plan for the federally threatened Lake Erie Watersnake (Nerodia sipedon insularum), and lead for recovery implementation and delisting. The Lake Erie Watersnake was delisted in 2011, the 23rd species to be delisted due to recovery nationwide. Megan is currently working on a species status assessment for the Kirtland's snake (Clonophis kirtlandii), to evaluate if this species warrants listing under the ESA. Megan received her Bachelor of Science degree, cum laude, in Wildlife Management from The Ohio State University, School of Natural Resources, in 2000.
Nicholas A. Smeenk
Advisory Board, term ends 2018.  Nicholas A. Smeenk is the Research Associate for the Amphibian and Reptile Conservation Program in the Ohio Biodiversity Conservation Partnership at The Ohio State University.  His current research is focused on the conservation and ecology of threatened and endangered reptile and amphibian species in Ohio including the Eastern Hellbender (Cryptobranchus alleganiensis) and the Massasauga (Sistrurus catenatus).  He received a Bachelor of Science in Wildlife Resources from the University of Idaho in Moscow, Idaho.  His Masters of Science in Environmental Studies is from Ohio University where he studied the population ecology of a headstarted population of Diamondback Terrapins (Malaclemys terrapin) in the Chesapeake Bay.  (Photograph by Greg Lipps.)