The Ohio Partners in Amphibian and Reptile Conservation (OHPARC) annual conference brings together invited speakers from around the state to present findings of recent research and conservation projects involving Ohio's amphibians, reptiles, and their habitats. If you are interested in learning more about Ohio's herps and networking with others in the field, then be sure to reserve this date and register for the meeting.  We are pleased to announce Dr. Justin Congdon, renowned turtle biologist, as this year's keynote speaker.  Check back soon for a full list of speakers and their presentation titles.
This conference is made possible due to the generous support of The Toledo Zoo & Aquarium, The Columbus Zoo & Aquarium, The Ohio State University, The Ohio Division of Wildlife, The United States Fish & Wildlife Service, and Enviroscience.
The registration cost ($45; $25 for students) includes a catered lunch.   On-line registration (required for lunch) closes on Wednesday, February 28, 2018.  On-site registration (space permitting) is the same cost, but does not include lunch. To register, visit www.toledozoo.org/ohparc.
Location
The conference will be held at the Ohio Farm Bureau, 4-H Center, Columbus, OH.
Posters
We invite the presentation of posters relevant to the conference theme.  To present a poster, please check the appropriate box in the registration form, then send an email to Megan Seymour (megan_seymour@fws.gov) with the subject line "OHPARC poster" and the following information in the body of the email: authors' names, affiliations, and title of the poster.  Please indicate which of the authors is the presenting author. Registration for poster presentation closes on Wednesday, February 28, 2018. 
'Round-the-Room Updates

As with previous conferences, we want to encourage YOU to share any updates or announcements on herp happenings at your organization or in your area during the time slot set aside for updates.  Examples of updates include:
recent research findings or planned research/survey projects;
conservation actions or opportunities;
observations of disease/die-offs;
emerging conservation concerns;
recent publications of interest;
opportunities for volunteer involvement;
graduate student opportunities; and,
other herp related news in Ohio.
These updates are meant to be informal and short (1-2 min).  If necessary, 1 or 2 slides (maximum) can accompany the update.  Please indicate if you are willing to provide an update by answering "Yes" to the "Give brief update?" column of the registration page, then sending an email to Greg Lipps (GregLipps@gmail.com) with the subject line "OHPARC update" and the following information in the body of the email: name, affiliation, and a single sentence on your update subject.
Silent Auction
To offset the cost of the conference and raise funds for OHPARC, we will be curating a silent auction on the day of the conference. We are requesting donations for the auction. Items could include: tickets to your institution or an event, merchandise, books, apparel, local products from your region of the state, or any other item that might interest our attendees. Please consider donating an item and/or requesting an item (or two!) from your company/institution. Items can either be brought to the conference or mailed in advance.
If you would like to donate to the silent auction, please answer "Yes" to the "Provide item for silent auction?" column of the registration page, then send an email to Nicole Hafer (nicole.hafer@muskingumswcd.org) with the subject line "OHPARC donation" and the following information in the body of the email: name of donor (institution, agency, or person), description and quantity of item to be donated, and value of the donated item(s).
T-shirts
The order deadline OHPARC t-shirts has now passed.  However, a limited number of t-shirts will be available for purchase at the conference.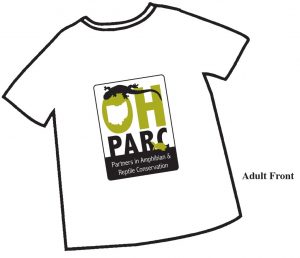 Description: A soft, lightweight, white, 5.5 oz short sleeve shirt with 3/4" seamed rib knit collar. Two-needle hemmed sleeve and bottom hems. 50/50 cotton/poly blend. Polyester material is made from post-consumer recycled PET bottles.
Agenda (Draft)
A full *draft* schedule of speakers and activities can be found below. Be sure to check back for a finalized agenda. We hope to see you there!
Morning Schedule*
8:00-8:30
Set-up
8:30-9:00
Check in, morning refreshments
9:00-9:20
Welcoming remarks and announcements
9:20-10:00
Keynote Speaker: Justin Congdon
10:00 – 10:25
Morning Break
10:25-10:45
Paul Pira, Geauga Park District
"Head-starting Spotted Turtles in Northeast Ohio: A Cooperative Conservation Effort"
10:45-11:05
Kate Parsons, DOW
"Role of Agencies in Herp Conservation"
11:05-11:30
OHPARC Elections and Business Meeting
11:30-11:50
Round-the-Room Updates
11:50-1:30
Lunch and Poster Viewing
Afternoon Schedule*
1:30-1:50
Bill Peterman et al., OSU
"Forest Management and Timber Rattlesnakes: A Thermal Landscape Perspective"
1:50-2:10
Megan Seymour, USFWS
"To list or not to list? Kirtland's snake (Clonophis kirtlandii) Species Status Assessment Findings"
2:10-2:30
Greg Lipps
"Conservation and Recovery of the Hellbender in Ohio"
2:30-2:50
Afternoon Break
2:50-3:10
Kip Brady, New Philadelphia High School
"Salamanders and Strip Mines: Engaging Students with Biodiversity and Land Use History"
3:10-3:30
Terry Breymaier
"Generating Community Support for Blanding's Turtle Nesting at Sand Beach"
3:30-3:50
Jon Souders and Kurt Whitford, West Clermont High School
"Turtles and Telemetry: a 14-yr Walk in the Park with High School Students"
3:30-3:50
Closing Remarks, Adjourn
* Last updated 1/16/2018. Schedule subject to change prior to event. Please check again closer to the day of the conference, March 20, for a finalized schedule.